It started as a wish..........
There was a group of ladies that shared everything in their lives with each other. They shared laughter, sorrows, gripes, well you get the picture. Only thing was, they had never met, at least not in person! One day several months ago, one of the ladies who lives halfway around the world, mentioned an upcoming trip to the states to visit her brother. "Gee", one of the ladies stated, "Wouldn't it be nice if we could see each other?" And, like a pebble that hits the water and creates ripple after ripple, the sentiment spread among the group of women. With that one wish, that one little dream, that one little comment, a plan formed and grew. On October 12th, in Las Vegas, that wish became a reality for the group of ladies that have been internet friends for over a year now!
What is even more amazing is this group's determination to be together! After the tragedy of September 11th, there were questions asked...."Is it safe to go?", "Do we really want to fly?" The ladies have said "Yes! Yes, we are going through with our plans! No one is going to make us afraid!" On October 12th 2001, Jules, Falcon, Liz, Mary D., Elaine, Anne, Meme, Shirley, and Patricia met each other. It was a wonderful weekend of friendship and a celebration of what makes the "Over 40 and Loving It Board" and Ivillage so great!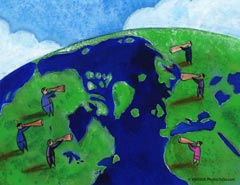 We might live all over the world but thanks to IVillage we are one in our hearts.
At the Airport in Vegas
Thanks to Village we found each in the Airport---Village yellow shirts stand out everywhere.